For
The Great War in Poetry &
Music repertoire listing, please
click here
. For details of upcoming performances, please click the Calendar link above.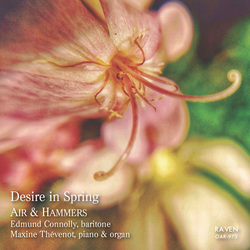 Air & Hammers are excited to announce the release of their debut CD,
Desire in Spring
, which includes music by Gerald Finzi, Ivor Gurney, Ralph Vaughan Williams, Robin Milford, Gabriel Fauré, Josef Rheinberger, Hugo Wolf (transcribed by Max Reger), Benjamin Britten, Andrew Ager and Frederick Frahm. The disc is now available to buy from
www.ravencd.com
.
The tracklist is below - you can click to see it larger!

---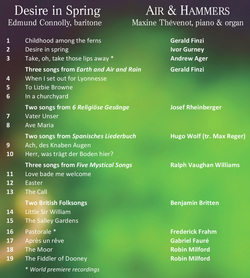 Review:
The American Record Guide has reviewed our CD in its April/May 2016 issue. The review follows:

Desire in Spring
Finzi, Gurney, Ager, Rheinberger, Wolf, Vaughan Williams, Britten, Frahm, Faure, Milford Edmund Connolly, bar; Maxine Thevenot, p, org Raven 973-60 minutes

This program includes mostly gentle pastoral songs, most accompanied by piano. 12 of 19 songs are by 20th Century English composers (Finzi, Gurney, Vaughan Williams, Britten, and Robin Milford). The album takes its name from Ivor Gurney's song 'Desire in Spring; but not all of the songs are about spring. Three of VW's Five Mystical Songs supply the most contrast of tone and dynamics and add more vigor to the program. Two "world premiere recordings" are included: 'Take, Oh Take Away Those Lips' by Canadian-born Andrew Ager and `Pastorale' by Frederick Frahm of Albuquerque, NM. The songs with piano were recorded at Simms Center for the Performing Arts at Albuquerque Academy. Halfway through this program is a group of four songs—two by Rheinberger and two from Wolf's Spanish Songbook (as arranged by Reger)—recorded in the more spacious acoustical environment of the Cathedral of St John in Albuquerque and accompanied on a 2002 Reuter organ. Most of this music is gentle and rarely rises to dramatic heights, and Connolly's light lyric voice is well suited to it. His reading of Faure's Apres une Reve' is lovely. When the music does become more dramatic, as in VW's 'Easter'; Connolly meets the challenge well. Connolly and Thevenot, who perform as Air and Hammers, are colleagues in the music staff of the cathedral. This winsome and enjoyable survey of songs is well performed and recorded. Notes about each song or group precede printed texts. Translations are supplied for three German texts and one each in Latin and French.
R MOORE

---